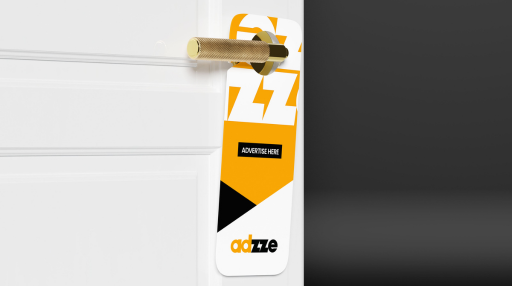 Door Hanger Marketing: a Cost Effective Advertising Tool
Advertisers are constantly looking for effective tools to promote their products. Door hanger advertising delivers the message straight to the target audience and brings a hands-on exposure to the consumer as they can touch and see the ad closely.  With a wide range of designs and shapes for the door hangers there are no bounds in terms of creativity. From simple to innovative designs like shapes of clothes (ties, tops etc.), funky masks, and quirky messages, these are so eye-catching that they are as good as complete marketing campaigns in themselves.
How does door hanger marketing work?
Your logo and message are printed on door hangers and distributed to the households in the zip code you selected. Technology solutions are used to target demographic profiles such as income, age, ethnicity, marital status, so that we hit your exact target-market. In addition, the segmentation method enables to evaluate annual spend criteria so that you have a better insight into the spend behavior of the target audience. The consumers will be positively surprised if you door hanger brings them value as coupons or discounts
The distribution method of the door hanger template follows a specific pattern. The first method involves covering the demographic target by distributing to selected block groups wherein about 800-1000 people reside in each block. In another method, hangers are distributed to a select group of addresses which consists of the specific target audience. These distribution channels are closely monitored by GPS systems or auditors employed by the advertising agencies.
Why should you use door hanger marketing?
Differently from Direct Mails, Door Hanger Marketing is an unconventional way to not get ignored. Door hangers are cost-effective method of advertising that is directly in front of the customer and has the potential to carry the complete details of the business. This door hanger fits the door knob or the door handle, and sometimes stays there for many days. When people enter the homes by opening the door, their first instinct is to check out the brochure hanging on the door. What follows is the close scrutiny of the ad. The time spent by people perusing the ads is sufficient enough for them to remember the ads for a very long time. With the advances in technology such as attractive 3D effects and glow-in the-dark features that some door hangers carry, you just cannot ignore or forget such compelling ads.
Some attractive features that door hanger template can provide:
– Unique design( e.g. shape) that is in line with the product
– Lenticular 3-D effects
– Glow-in-the dark ink
– Scratch and sniff capabilities
– QR scan codes
Door Hanger Marketing is memorable and cant be ignored
Usually when you check your mailbox, it is full of advertisements and it gets easily ignored and sent to garbage. Research studies demonstrate that most customers that ignore direct mails is because they receive too many of them every day (Burstein, Marketing Sherpa Study, 2017). Different from direct mail, Door Hangers are unique. Think about it: over the past week, how many mails ads did you receive v.s. Door Hangers?
Door Hangers are more effective because the customers are not used to receive it every day – it is unconventional. You advertisement will not be ignored – the audience must touch it since they must be physically removed.
Door Hanger Marketing costs
Same as Direct Mail but more effective and memorable.